IIIT Surat is a non-profit PPP engineering institution founded by the MHRD.  IIIT Surat is designated as an Institution of National Importance. IIIT Surat offers undergraduate and doctoral degrees in engineering. IIIT Surat is now operating from SVNIT, which serves as a temporary campus. The permanent campus of IIIT Surat is currently being built. IIIT SURAT : Cutoff , Placement , Ranking , Courses , Admission 2024-2025
IIIT Surat's main program is BTech. IIIT Surat offers 4 years of BTech courses in 2 specializations. The total fee for the BTech course at IIIT Surat is INR 6.33 lakhs. The placement rates were 93.75% and 81.63%, respectively, for the CSE and ECE branches. Admissions to the courses are done based on JEE Mains cutoff rank, followed by a counselling procedure.
The overall cutoff for JEE-Main 2022 is 2637 – 3801 rank for the general category.The highest offer received during the 2022 placement campaign was INR 46 LPA. At IIIT Surat, the average salary was INR 14.50 LPA. Among the top employers at IIIT Surat were Google, Microsoft, and Amazon.
IIIT Surat Highlights
Indian Institutes of Information Technology (IIIT), Surat was established in 2017 by the Ministry of Human Resource Development (MHRD). It is funded by State Government and industry partners Gujarat Narmada Fertilizer Corporation (GNFC), Gujarat Informatics Limited (GIL) and Gujarat Gas Limited (GAL) under the public-private partnership (PPP) model.
Currently, IIIT Surat is operational from its temporary premises at Sardar Vallabhbhai National Institute of Technology (SVNIT). The permanent campus is in progress on over 50 acres of land. As of now, the institute is offering admission to Bachelor of Technology (BTech). Below mentioned are the important highlights regarding IIIT Surat:
| Particulars | Statistics |
| --- | --- |
| Established | 2017 |
| Type | Public-Private Partnership (PPP) |
| Official website | http://www.iiitsurat.ac.in/ |
| Programmes | BTech |
| Entrance Test | JEE Main |
| Application mode | Online |
IIIT Surat Location
IIIT Surat presently has its temporary campus at SVNIT that is located in Ichhanath, Surat-395007 in Gujarat. It is located at a distance of 8.5 and 9 km from the Surat International Airport and Surat Railway Junction respectively. One can easily take local public transport from there to reach the location.
IIIT Surat Ranking
Information currently unavailable. ( College is yet to submit Nirf Report )
IIIT Surat Courses , Fees and Eligibility
| Courses | Total tuition Fees | Eligibility |
| --- | --- | --- |
| B.E. / B.Tech(2 Courses) | INR 6 L(for 4 years) | 10+2 : 75 %Exams : JEE Main |
| Ph.D.(2 Courses) | – | Exams : GATE , UGC NET, +1 more |
B.E./B.Tech. – 4 Years Courses
Computer Science and Engineering
Electronics and Communication Engineering
Institute Fee
| | |
| --- | --- |
| Particulars | Amount |
| One Time Fees | ₹12,000 |
| Tuition Fee (per Semester) | ₹75,000 |
| Other Fees (per Semester) | ₹2,000 |
| Total | ₹89,000 |
Hostel Fee
Particulars
Amount
Hostel Caution Money (One Time, Refundable)
₹5,000
Hostel Charges (including Mess Charges) (per Semester)
₹40,000 (Odd Semester),
₹35,000 (Even Semester)
IIIT Surat Placements
IIIT Surat Placements 2022 is concluded with 87.63% placements. IIIT Surat highest package stood at INR 46 LPA while IIIT Surat average package stood at INR 14.50 LPA. 60 recruiters participated in the placement drive. The highlights of IIIT Surat Placements 2022 is tabulated below:
The 2023 placement statistics are yet to be released. Earlier, out of 97 registered students 85 were placed during 2022 placements. Check the complete insights of IIIT Surat placements 2022 from the table below:
| Particulars | Placement Statistics (2022) |
| --- | --- |
| Total students | 114 |
| Students registered | 97 |
| Students placed | 85 |
| Placement rate | 87.63% |
| Average package | INR 14.50 LPA |
| Median package | INR 11.26 LPA |
| Highest package | INR 46 LPA |
| Popular recruiters | Microsoft, Amazon, Walmart |
Placement Statistics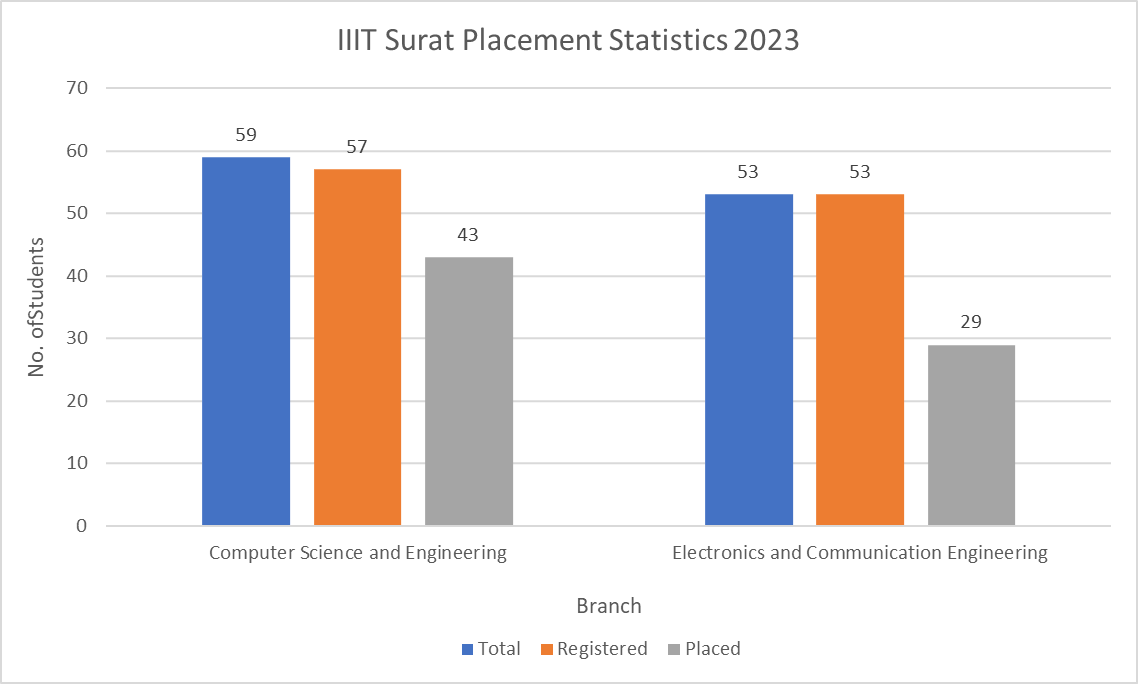 Along with the above data, the institute has released the BTech CSE and BTech ECE placement statistics. The IIIT Surat highest package was the same for CSE and ECE branches. The placement rate for CSE and ECE stood at 93.75% and 81.63%, respectively. The key highlights of IIIT Surat CSE and ECE placements 2022 are tabulated below:
| Particulars | CSE Placement Statistics (2022) | ECE Placement Statistics (2022) |
| --- | --- | --- |
| Total students | 58 | 56 |
| Students registered | 48 | 49 |
| Students placed | 45 | 40 |
| Placement rate | 93.75% | 81.63% |
| Average package | INR 16.85 LPA | INR 13.52 LPA |
| Median package | INR 12.52 LPA | INR 10 LPA |
| Highest package | INR 46 LPA | INR 46 LPA |
IIIT Surat Clubs, Committees and Councils
Since the institute has been recently established in 2017, there are not many students' councils, and clubs formed so far. A few of them are given below:
Developer Student Club – The club organizes various projects wherein the students of other college members can also participate. The participating teams are asked to come up with an existing issue, propose a viable solution and implement that proposition to create a full-fledged working model.
Robotics Club – It is the official Robotics Club of IIIT Surat. It consists of a diverse group of enthusiastic people who love to solve real-life problems. Innovation and Creation are the roots of this club.
Entrepreneurship Cell (E-Cell)– It is a non-profit organization run by students of IIIT Surat. It will not only contribute to the development of India but also help raise the quality of life in the country. With this belief, The Entrepreneurship Cell at IIIT Surat aims to inculcate and nurture the raw ideas and skills of the students, willing to convert their ideas into products and to emerge as a leading entrepreneur.
IIIT Surat Campus Facilities
The Indian Institute of Information Technology, Surat began its academic journey with Sardar Vallabhbhai National Institute of Technology (SVNIT), Surat that serves as its mentoring Institute. It oversees all academic and administrative aspects of Indian Institute of Information Technology Surat.
Medical/Hospital The Health Centre is a full-fledged OPD unit managed by one full time Residential Doctor, Six Hon. Visiting Medical Consultants namely Physician, Gynaecologist, Paediatrician, Radiologist, Ayurveda & Homeopathy Specialist assisted by two pharmacists & supporting staff.
Library The Central Library, SVNIT Surat is one amongst major technological libraries in the area of science, engineering and technology. The Library was established in 1968. It has completed nearly 49 years and has built a large collection of books, journals and non-book materials. It also has a rich collection of resources in electronic media available locally on the Institute Intranet and accessible on the Web. It caters to the needs of large groups of users including more than 2000 students, 200 faculty, 150 research scholars and equally large number of supporting staff.
Sports The college has sports facilities for all students.
I.T Infrastructure The college has excellent IT Infrastructure facility for the students.
Cafeteria The campus has one canteen located behind the Central Library building. Its used by hostilities as well as the occasional visitor. The Canteen is open from 7.00 A.M. to 7.00 P.M. on all working days including Saturdays. A wide variety of South Indian items, and chinese food, as well as some fast food varieties, are available. During lunch time Meals (Gujarati Thali) are available at very nominal rates.
Wifi The college has Wi-Fi facility for the students and staff.
Laboratories The college has departmental based laboratories facility for the students.
Guest Room/Waiting Room The college has guest house/waiting room facilities for visiting faculty and student family members.
Banks/ATMs The college has the Banks/ATM facilities for all students.

IIIT Surat Cutoff
The authorities will release the cutoff of JEE Main 2023 for IIIT Surat after each round of counselling. IIIT Surat JEE Main cutoff 2023 will include the opening and closing ranks required by the candidates to be eligible for admission at the institute. The cutoffs will vary as per the courses and categories of the candidates. The JEE Main cutoff 2023 for IIIT Surat will be updated here in this article as soon as it will be published by the authorities.
NOTE- All the mentioned ranks from Round 1 to Round 6 are JEE (Mains) category-wise All India Ranks. All ranks mentioned in Special Round are JEE (mains) 2022 All India CRL Ranks.HS stands for Home State Quota and OS stands for Other State Quota. Vacant HS Quota seats were converted to All India Quota in Special Round.
NOTE- Josaa Round 6 cutoff (2022) is mentioned below
Courses
Category
Male
Female
Computer Science and Engineering
OBC (N.A.)
7926
12527
OBC (PwD)
591
591
EWS
3391
4414
General (N.A.)
20029
26490
General (PwD)
602
602
SC
4437
6229
ST
2113
2935
Electronics and Communication Engineering
OBC (N.A.)
10660
14201
OBC (PwD)
887
887
EWS
4530
5990
General (N.A.)
27874
30146
General (PwD)
1909
1909
SC
6961
7398
ST
3500
3708