The National Eligibility cum Entrance Test (NEET) is the sole entrance test for admission to MBBS and BDS courses in India. The exam is conducted once a year in offline mode for a duration of three hours and 20 minutes. The National Testing Agency (NTA) conducts the medical entrance exam for admission to MBBS, BDS, BSc Nursing, BAMS, Veterinary, and other medical/paramedical courses in India. The exam is conducted in 13 languages.
The single national-level undergraduate medical entrance exam, NEET UG held every year for admission to 645 medical, 318 dental, 914 AYUSH, and 47 BVSc and AH colleges in India. NEET 2024 exam will be conducted on May 5, 2024. The National Testing Agency (NTA) announced the exam date on September 19, along with other top entrance exams such as JEE Main, CUET, etc. Apart from the exam date, no other information, such as the NEET 2024 exam pattern, syllabus or eligibility criteria have not been announced yet.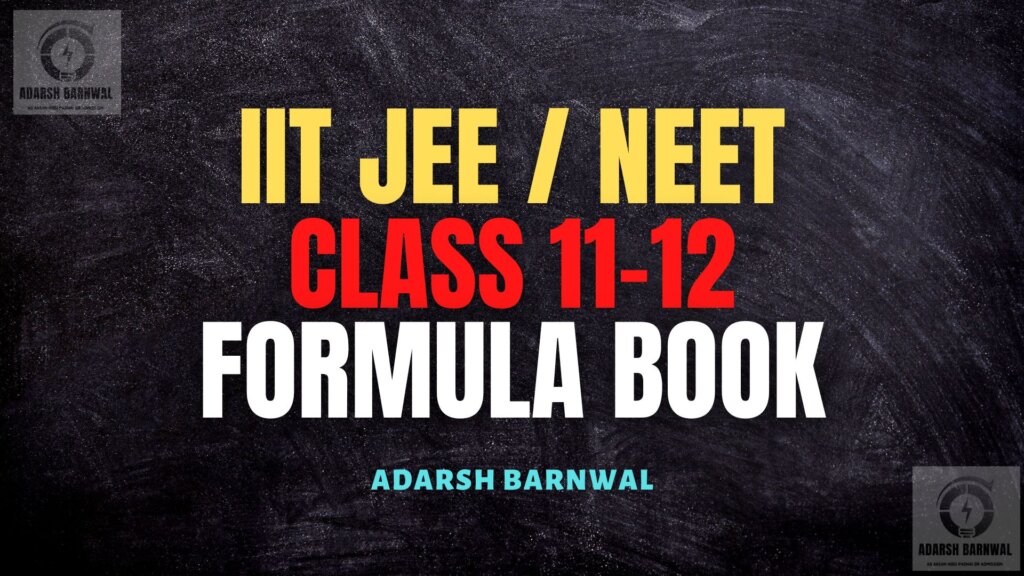 NEET 2024 Exam Highlights
NEET 2024 highlights have been summarized in the table below. Candidates can go through the same to get an overview of NEET exam.
Is 12th percentage required for NEET 2024?
Yes, 12th percentage is important to be eligible for NEET 2024. To apply for NEET 2024, general category candidates need at least 50% marks in class 12 while the reserved category candidates need 40% marks in class 12th. For PwD candidates, class 12th marks should be equal to or more than 40 percent.
Is NEET to become a doctor? 
Yes, NEET is to become a doctor. After clearing NEET, you can get admission to more than 1,00,000 MBBS, 27,868 BDS, 52,720 AYUSH, and 603 BVSc & AH seats offered by 654 medical, 318 dental, and 914 AYUSH colleges to become a doctor.
How is NEET 700 marks scored?
700 marks can be scored in NEET provided you answer 175 questions with 100% accuracy.
NEET Full Form
NEET Full Form is National Eligibility cum Entrance Test. NEET is the only national UG medical entrance exam in India. NEET is conducted annually by NTA in pen-paper mode since 2019. Before 2019, National Eligibility cum Entrance Test (full form of NEET) was conducted by CBSE.
NEET 2024 Application Process
Mode of Application : Online
Mode of Payment : Net Banking | Credit Card | Debit Card | Other
The steps to fill out the NEET 2024 application form are as follows:
Registration: Go to neet.nta.nic.in and register for NEET 2024 by entering the asked details such as an active phone number and email ID. After entering the details, the NEET 2024 application number will be generated.
Filling out the application form: After the successful registration, go to the NTA NEET website again and log in through the candidate login. Upon reaching the application form, enter the asked details such as personal, academic and others.
Upload documents: In the third step, upload the scanned images of the photograph, signature and other documents as per the specifications mentioned in the NEET 2024 brochure.
Paying NEET 2024 application fee– Pay the registration fee through Debit/Credit card/ Netbanking/ UPI.
Taking printout of the confirmation page: Candidates must save a copy of the confirmation page of the NEET exam 2024.
NEET 2024 application form fee
Important Tip: Keep 6 to 8 photographs for NEET 2024 exam day attendance sheet, admit card and medical admissions.
NEET Correction Window 2024
To correct any mistakes made in the application form, candidates can use the NEET correction window that will be made available by NTA after NEET 2024 registrations close. Changes and corrections will be allowed through NEET candidate login. The correction window of the NEET 2024 exam will be a one-time facility
Corrections allowed in NEET application form 2024: All details/ Photograph/ Signature and Exam cities
NEET Application Statistics over the past years
Application Fees
NEET 2024 Exam Date
NEET 2024 exam date has been announced by NTA in a calendar released on nta.ac.in. NEET 2024 exam will be held in PBT mode from 2:00 to 5:20 PM on the scheduled date. For dates of more events related to NEET 2024, you can refer to the table below:
NEET 2024 Exam Pattern
According to NEET 2024 Exam Pattern, the question paper will consist of 200 questions out of which candidates have to attempt 180. It is important for candidates to go through the exam pattern to get an idea of NEET exam and prepare accordingly.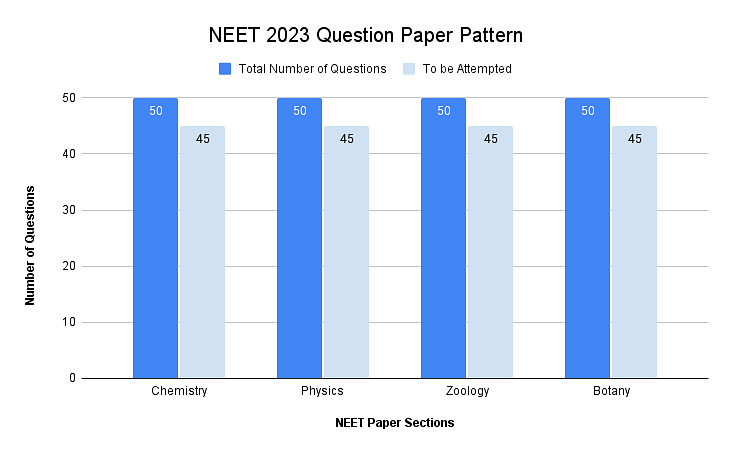 Medium of Exam: NEET 2024 question paper will be conducted in 13 languages including Hindi, English, and 11 other regional languages- Odia, Assamese, Kannada, Bengali, Marathi, Malayalam, Tamil, Telugu, Gujarati, Punjabi, and Urdu.
Mode of the exam: NEET 2024 will be conducted as an offline examination i.e it will be conducted in pen-paper mode at 500+ test cities across India. Like last year. NEET 2024 exam is expected to be held in 14 exam cities abroad.
Number of Questions: The question paper for NEET 2024 exam will consist of 200 MCQs out of which you have to answer only 180.
Number of Sections: NEET 2024 exam will have 4 sections (Biology is divided into botany and zoology). Each subject has 50 questions, 35 from Section A and 15 from Section B. Out of the 15 questions from Section B, candidates have to attempt 10 questions.
Marking Scheme: Each question carries 4 marks in NEET 2024 exam. Negative marking is present i.e 1 mark is deducted for every wrong answer. However, no marks are deducted for leaving a question unattempted
Total Marks: The paper will be for a total of 720 marks.
Exam Duration: The time duration for NEET 2024 is 3 hours and 20 minutes (200 minutes). Keep in mind that there is no sectional time limit in NEET exam.
NEET Marking Scheme 2024
Based on NEET 2024 marking scheme, candidates gain 4 marks for every correct answer and loose 1 mark for every incorrect answer. No marks are deducted or awarded for unattempted questions.
NTA will conduct NEET 2024 in 13 languages in offline mode. Candidates opting for English, Hindi, and Urdu will be allowed to select any exam city in India. If a candidate chooses to take NEET in any of the 10 regional languages, then the exam center will be allotted only in the particular state.
NEET 2024 Syllabus
neet.nta.nic.in 2024 syllabus comprises 97 chapters of class XI and class XII NCERT syllabus for Physics, Chemistry and Biology. NTA NEET 2024 Syllabus PDF is available for download subject-wise. Download NEET 2024 Syllabus PDF
Biology NEET Syllabus has 10 units- 5 each from class 11 and 12.
30 chapters are included in NEET Chemistry Syllabus.
Physics NEET 2024 Syllabus includes 10 & 9 chapters from class XI & XII respectively.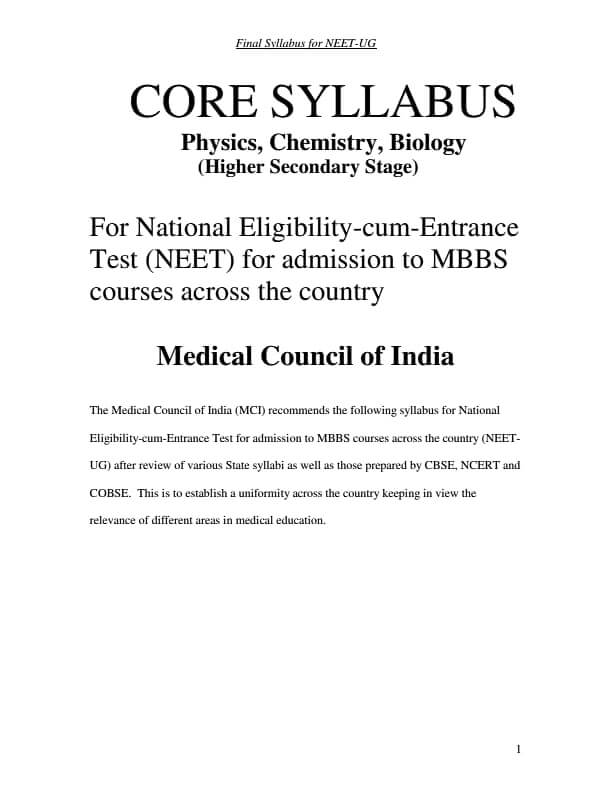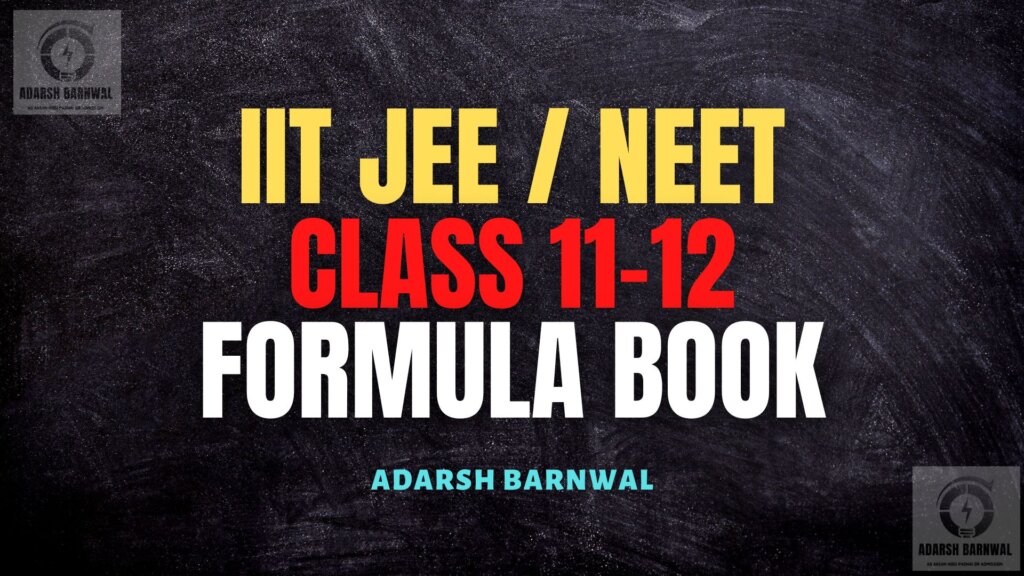 NEET 2024 Eligibility Criteria
NEET 2024 eligibility age, qualifying marks, nationality must be fulfilled by the candidates to register for the exam. Before applying for NEET exam, candidates must check the detailed eligibility criteria from below:
NEET 2024 Age Limit
As per NEET 2024 Age Limit, candidates must have completed 17 years of age before December 31, 2024. There is no upper limit on NEET eligibility age.
NEET Eligibility Marks in 12th
Class 10+2 in PCB and English from a recognized board with a minimum of 50% marks for the general category/ EWS candidates.
Reserved category candidates can apply for the exam with 40% marks in PCB.
Candidates are eligible even if they have opted for biology as an optional subject.
NEET Attempts
There is no limit on the number of times a candidate can appear for NEET. Candidates who are 17 years and above can take any number of NEET Attempts provided they fulfill other eligibility criteria.
NEET Eligibility: Nationality
Indian Nationals are eligible to apply for the exam.
NRIs, OCIs, PIOs & Foreign Nationals are also eligible to appear for the exam.
NEET 2024 Reservation Criteria
NEET 2024 Reservation criteria provides for reservation of seats in the central universities and state medical/ dental colleges for EWS, SC, ST, and OBC candidates.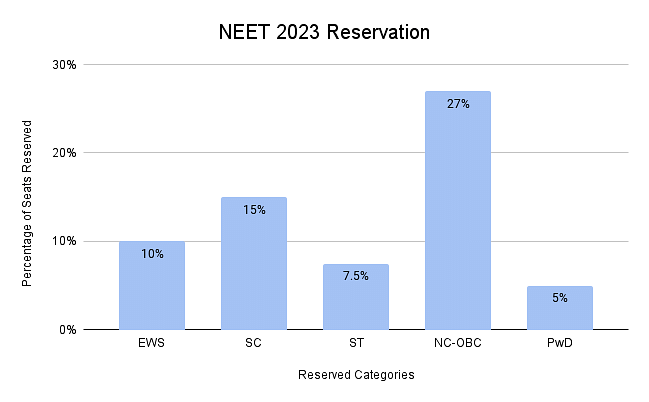 Why NEET 2024
NEET 2024 is the only exam for candidates who aspire to be a doctor. Candidates seeking admission in the top colleges of India like AIIMS, JIPMER, etc will also have to appear for NEET. No other exam is valid for admission in medical courses. After qualifying NEET candidates will become eligible for admission in the following courses:
Medical – MBBS, Bachelor of Medicine, and Bachelor of Surgery
Dental – BDS, Bachelor of Dental Surgery
Ayurvedic – BAMS, Bachelor of Ayurvedic Medicine and Surgery
Ayurvedic – BUMS, Bachelor of Unani Medicine and Surgery
Ayurvedic – BHMS, Bachelor of Homeopathic Medicine and Surgery
Ayurvedic – BSMS, Bachelor of Siddha Medicine and Surgery
Nursing – B.Sc Nursing, Bachelor of Science in Nursing
Veterinary – BVSc & AH, Bachelor of Veterinary Science and Animal Husbandry 
NEET 2024 Result
NEET 2024 Result isdeclared by the official authority on the basis of the final answer key. Candidates can download their result from the official website- neet.nta.nic.in. 
For neet.nta.nic.in result download, candidates can follow the steps given below:
Visit the official NEET UG website of NTA- neet.nta.nic.in.
Click on the link 'Download Scorecard for NEET UG 2024'.
Enter your application number for NEET 2024, date of birth, and the security pin.
NEET 2024 scorecard will be displayed on the screen. Download and save it for future reference.
NEET Result Statistics
NEET result statistics for the previous year are provided below for your reference.
NEET 2024 Topper List
NEET 2024 Topper List will be updated below once the result is declared by NTA. Every year, NTA releases the list of top 50 AIR candidates in NEET UG examination along with the important statistics.
NEET Marks Vs Rank
NEET Marks vs Rank provided here indicates the marks required to secure a given NEET rank. NEET marks vs rank analysis 2023, 2022, 2021, and 2020 is updated below. 
NEET 2024 Merit List
NEET Merit List for 15% AIQ seats is released by NTA based on NEET UG scores. NTA shares the merit list with DGHS, Ministry of Health and Family Welfare for MCC to conduct the 15% AIQ NEET Counselling for MBBS/ BDS/ B.Sc Nursing courses in AIIMS and other medical/ dental institutes in the country.
Each state's medical counselling authority releases the state NEET Merit List 2024 for admission to 85% of state quota seats. Only candidates listed on the NEET UG Merit List are eligible for participating in the admission process.
NEET UG 2024 Merit List: Tie Breaker Criteria
There are high chances that candidates may secure the same marks in NEET 2024 exam. In such cases, it becomes inevitable to follow the below-mentioned tie-breaker criteria (in order of priority) to decide which candidate gets a higher AIR:
Higher marks in Biology
Higher marks in Chemistry
Higher marks in Physics
Less proportion of the number of incorrect and correct attempts in all the three subjects
Less proportion of the number of incorrect and correct attempts in Biology
Less proportion of the number of incorrect and correct attempts in Chemistry
Less proportion of the number of incorrect and correct attempts in Physics
NEET 2024 Cut off
NEET Cut off is the minimum marks that the candidates must secure to get admission in MBBS, BDS, AYUSH courses offered by medical colleges in India through NEET. NEET 2024 cutoff will tentatively be released in June 2024. The cut off will be released by NTA along with the result.
Expected Cut off of NEET 2024
Below we have provided NEET Cutoffs for previous years so that the candidates can get better clarity about the changes in NEET Cut off over the years.
NEET Cut off (AIQ) for Top Medical Colleges
NEET AIQ Cut off is the opening and closing rank at which candidates are granted admission in MBBS/ BDS colleges through 15% AIQ NEET Counselling. NEET AIQ cutoff for previous years is provided below for candidates.
NEET Cut off 2022: Closing Ranks
NEET 2024 Question Paper
The question paper for NEET is published by the National Testing Agency (NTA) along with the OMR sheet and answer keys. Candidates can download the NEET 2024 question paper PDF by logging in with their credentials from the official website neet.nta.nic.in. To prepare better for the undergraduate medical exam, it is important for candidates to solve the NEET previous year's papers. Solving the previous year's questions will help aspirants have an idea of the NEET UG difficulty level.
Previous year's NEET question paper all codes: (English & Hindi)
Documents Required at Exam
NEET admit card
One passport size photograph
PAN Card/Driving License/Voter ID/Passport/Aadhaar Card (with photograph) /Ration card/any other valid government ID
PwD certificate issued by the competent authority if applicable
Letter of undertaking of own scibe if applicable