IIT Mandi is a public research university located in Kamad Valley of Mandi, Himachal Pradesh. IIT Mandi is a second-generation IIT,  established by the MHRD, Govt of India. It is ranked 33 in engineering and 73 in the overall category of NIRF rankings 2023. IIT Mandi is spread over an area of 358 acres, including 4 schools of education. The institute provides UG, PG, PhD, and Dual degree programs, including BTech, MTech, MA, MSc, PhD, Integrated MTech, etc. IIT Mandi : Cutoff , Placement , Ranking , Courses , Admission 2023-2024
IIT Mandi offers B.Tech as ts flagship program where admissions are based on JEE Advanced Score followed by JoSAA Counselling. For M.Tech and M.Sc admissions GATE, IIT JAM scores are required. The yearly fee for IIT Mandi flagship BTech program is INR 2.85 Lakhs. For the MTech program, the GATE cutoff has increased from 634 in 2018 to 623 in 2022. 
Top engineering Exams in India – Apply Now
IIT Mandi Highlights
Indian Institute of Technology (IIT) Mandi is one of the eight new IITs established by the Ministry of Education, Government of India in 2009. This Autonomous Institute is located at Kamand, Mandi and is spread over an area of 538 acres. IIT Mandi has nine schools, including the School of Computing and Electrical Engineering, School of Basic Sciences, School of Engineering, School of Humanities and Social Sciences, etc. The institute provides undergraduate, postgraduate, doctoral, and integrated programmes. The courses include BTech, MTech, MA, MSc, PhD, Integrated PhD, BTech – MTech Integrated Dual Degree, etc. Below table shows the major highlights of IIT Mandi:
Particulars
Statistics
Year of establishment
2009
Campus area
538 acres
Ownership
Public, Autonomous
Approvals
UGC, AICTE
Number of courses
29
Number of schools
9
MoUs signed
International: 14
National: 13
Number of hostels
North campus: 2
South campus: 4
IIT Mandi Location
IIT Mandi is located in the Mandi district in Himachal Pradesh. The Kamand Valley engulfs the institute which is situated on the banks of a tributary of Beas river. The Mandi town is not far away from the village in which IIT Mandi is situated – only 14 km away. The climate varies from one month to another due to the high elevation of the land. Nevertheless, the scenic beauty and the shops, markets, restaurants, parks, banks, and other amenities surrounding the institute makes it a comfortable spot.
Top engineering Exams in India – Apply Now
IIT Mandi Ranking
IIT Mandi has been featured in the ranking list of top agencies like NIRF, India Today, and ARIIA. As per the NIRF data, the ranking of the institute has increased over the past few years. IIT Mandi, in the overall category was ranked at 73 in 2023.
| Agency | Category | Rank |
| --- | --- | --- |
| NIRF 2023 | Overall Category | 73 |
| NIRF 2023 | Research Institution | 47 |
| NIRF 2023 | Engineering | 33 |
| Indiatoday 2022 | Engineering | 12 |
The 5-Year NIRF Ranking Comparison of IIT Mandi is listed below-
| Year | Rank | Score out of 100 |
| --- | --- | --- |
| 2023 | 73rd | 49.03 |
| 2022 | 43rd | 51.05 |
| 2021 | 82nd | 43.93 |
| 2020 | 67th | 46.56 |
| 2019 | 44th | 49.40 |
IIT Mandi Courses & Fees
IIT Mandi offers 33 courses at the UG, PG, and Doctoral levels. The courses offered include BTech, MTech, MSc, MA, MS, Integrated MTech, PGP, PG Certificate, and Integrated PhD program. The basic eligibility required for IIT Mandi courses is 60% aggregate marks in the qualifying examination. Admission to IIT Mandi courses requires a valid score in the national-level examination and participation in the counselling process. In the case of the institute-based written exams, the candidate must qualify for the interview round, conducted for final admissions.
| Courses | Fees | Details |
| --- | --- | --- |
| B.Tech (12 Courses) | ₹3/3.5 Lakhs (1st Year Fees) | 10+2 with 75% Exam: JEE Advanced Counselling: JoSaa Counselling |
| M.Sc (4 Courses) | ₹60,950 (1st Year Fees) | BSc Degree with 60% Exam: IIT JAM |
| M.Tech (9 Courses) | ₹77,550 (1st Year Fees) | BE/ B.Tech/ AMIE /M.Sc degree with 60% Exam: GATE Counselling: COAP counselling |
| PhD (4 Courses) | ₹72,550 (1st Year Fees) | MSc/ ME/ MTech with 60% merit Exam: GATE/ UGC NET/ CSIR NET/ NBHM Entrance based |
Top engineering Exams in India – Apply Now
B.E./B.Tech. – 4 Years Courses
Civil Engineering
Computer Science and Engineering
Data Science and Engineering
Electrical Engineering
Engineering Physics
Mechanical Engineering
Bio engineering- 5 Years
Institute Fee
| | |
| --- | --- |
| Particulars | Amount |
| Caution Money (One Time, Refundable) | ₹7,000 |
| One Time Fees | ₹10,000 |
| Tuition Fee (per Semester) | ₹1,00,000 |
| Other fees (per Semester) | ₹6,000 |
| Annual Fees | ₹750 |
| Total | ₹1,23,750 |
Hostel Fee
| | |
| --- | --- |
| Particulars | Amount |
| Mess Caution Money (One Time, Refundable) | ₹5,000 |
| Hostel Charges (per Semester) | ₹9,600 |
| Mess Advance (per Semester) | ₹15,000 |
| Total | ₹29,600 |
Fee Waivers
100% Tuition Fee waiver for SC/ST/PH students.
Full remission of the Tuition Fee for General and OBC students whose family income is less than Rs.1 lakh per annum.
Remission of 2/3rd of the Tuition Fee for General and OBC students whose family income is between Rs.1 lakh to Rs.5 lakh per annum.
Top engineering Exams in India – Apply Now
IIT Mandi Cells, Committees and Councils
To boost the skills of students and create a very conducive environment for wholesome development with utmost security and priority to quality education, IIT Mandi has established some committees, cells and councils in the campus. Some of the important ones are –
Green Panel
Women's Cell
IIT Council
IIT Mandi Catalyst
Career Counselling and Placement Cell
Advanced Materials Research Centre (AMRC)
BioX Centre
Centre for Design & Fabrication of Electronic Devices (C4DFED)
Design & Innovation Centre (DIC)
Enabling Women of Kamand (EWOK)
IIT Mandi Technology Innovation Hub (TIH) – Human-Computer Interaction (HCI)
Faculty Development Centre
National Service Scheme
Science & Technology Council
Cultural Society
Society for Collaborative Research and Innovation (SCRI)
The Faculty and Staff Recreation Club
Top engineering Exams in India – Apply Now
IIT Mandi Campus Facilities
IIT Mandi also runs an initiative called the Advanced Materials Research Centre (AMRC) which provides research facilities that are solely aimed to deal with specialisations like advanced materials, energy, electronics, environment, among others. The college is well-maintained by its management department and has a well-connected network of communications that contribute to its reputation today. Furthermore, the IIT Mandi facilities also include 2 ATMs for students' financial aid. The college has both types of student accommodation for girls and boys.
The library at IIT Mandi is called the Central library that has over 10,500 books that help the campus students and faculty emerge in the fields of science and technology. NKN, short for National Knowledge Network, is also an electronic classroom that connects universities, colleges and institutes of the nation virtually.
The Indian Institute of Technology Mandi also hosts many competitions in their workshops of mechanical engineering. Additionally, a student's counsel is also set up in the campus that ensures the well-being of its students. The campus is also well equipped with various sports fields like indoor badminton courts, football and cricket fields along with a table tennis hall and a swimming pool.
This is due to the importance sports and other co-curricular activities hold for the institute. Currently, the college is also building a hockey ground with a kiosk, and other fields like new tennis, volleyball, and basketball courts. Other than that, students also enjoy music and other arts in the college where various talent competitions are held. Being in a hilly area, the college does not have malls or theatres in the vicinity.
Boys Hostel There are many hostels in the IIT Mandi campus that houses both undergraduate and postgraduate students. They also has a guest house for visitors.
Girls Hostel There are several girls hostels, which house undergraduate and postgraduate students. Faculty and staff quarters are available and accommodate around 90% of faculty and a few staff members. There are also studio apartments and guest houses for visitors. The campus is a fully residential complex for students, faculty, staff, and visitors.
Medical/Hospital IIT Mandi has a 24×7 active medical unit with doctors, nurses and all the necessary medication on both the campuses. They also have an ambulance ready to go during emergency.
Gym IIT Mandi harbors a gymnasium at students' disposal that is well equipped with many training machines. Students can also practice yoga and aerobics provided inside the gymnasium.
Library The Central Library of the institute is well stocked with about 10,500 books including research-based books on science and technology available to students and faculty.
Sports Basketball, Cricket, Volleyball, Soccer, Hockey, Badminton, Table Tennis and Cycling are few sports being practiced on the main campus. Activities like Hiking and Trekking are encouraged under guidance.
I.T Infrastructure The institute has a High-Performance computational facility with 39 nodes based on Intel Xeon processors that have total 404 processor cores, memory of 1.3 TB and 63 TB storage space. IIT Mandi has four sophisticated interactive virtual classrooms.
Cafeteria The institute has two canteens serving many good quality Indian dishes along with a bakery shop. They also have dining halls in both campuses.
Alumni Associations The college has a good networking for alumni association.
Laboratories Known for its research facilities, the college has set up many laboratories on the campus for fields like Electrical and electronics, Mechanical Design, Thermo-fluids, Physics, BioX, Nanotechnology, Photoresist, Chemistry and Computer Sciences.
Banks/ATMs There are two banks with their ATM facilities (State Bank of India and Punjab National Bank) in the main campus.
Convenience Store Two provisional grocery and stationery stores are located on both campuses.
Top engineering Exams in India – Apply Now
IIT Mandi Placements
As per latest media report, IIT Mandi has conducted its Phase 1 campus placement of 2023. A total of 249 students has been placed so far and out of which 70 were pre-placement offers. The highest and average package offered stood at INR 60 LPA and INR 25.23 LPA. The median package offered was INR 26 LPA. More than 85 companies participated in this placement process and till now 140 national and international companies have registered with the college. So far IIT Mandi has received 90 international offers and some of the major giant companies who participated in this process namely Uber, Amazon, Walmart, Oracle, etc
| Particulars | Placements Statistics (2022-23) |
| --- | --- |
| No. of Recruiters Participated | 88 |
| Number of Offers | 249 |
| Number of International Offers | 90 |
| Number of PPOs | 70 |
| Highest CTC | INR 60 LPA |
| Average CTC | INR 25.23 LPA |
| Median CTC | INR 26 LPA |
| Top Recruiters | Flipkart, 1mg, Microsoft, Uber, Amazon, Walmart |
Placement Statistics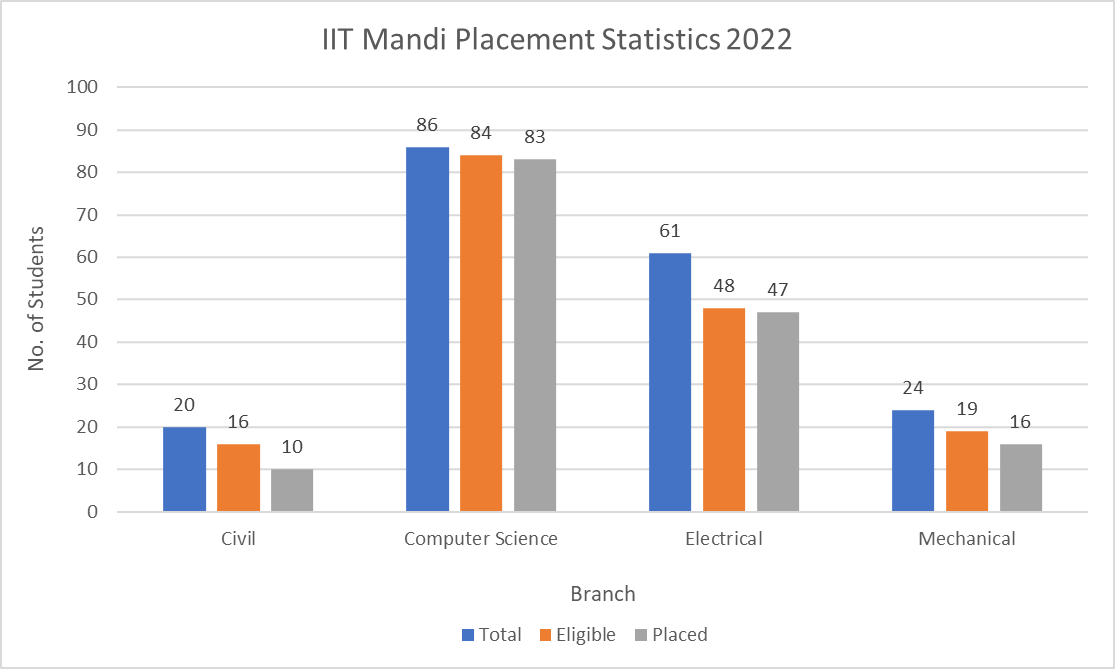 | | |
| --- | --- |
| Branch | Placed (%) |
| Civil Engineering | 62.50% |
| Computer Science and Engineering | 98.81% |
| Electrical Engineering | 97.92% |
| Mechanical Engineering | 84.21% |
| Overall | 93.41% |
Top engineering Exams in India – Apply Now
The branch-wise IIT Mani BTech placements 2022 statistics are also presented in the below-mentioned table:
| Particulars | CSE | EE | ME | CE |
| --- | --- | --- | --- | --- |
| Total students | 86 | 61 | 24 | 20 |
| Students eligible & registered | 84 | 48 | 19 | 16 |
| Students placed | 83 | 47 | 16 | 10 |
| Placement rate | 99% | 98% | 84% | 63% |
| No. of offers received | 103 | 62 | 19 | 16 |
Note: In the above-mentioned table, CSE, EE, ME and CE branches represent Computer Science, Electrical, Mechanical and Civil branches, respectively.
| Particulars | Statistics (2020) | Statistics (2021) | Statistics (2022) |
| --- | --- | --- | --- |
| Placement rate | 85% | 81% | 93.4% |
| Total students | 147 | 146 | 191 |
| Students eligible and registered | 119 | 126 | 167 |
| Students placed | 101 | 102 | 156 |
| No. of offers received | 142 | 133 | 200 |

IIT Mandi Cutoff
Candidates seeking admission to the B.Tech programme at IIT Mandi will have to meet the cutoff of JEE Advanced 2023. The cutoff consists of the minimum marks required by the candidates to be eligible for admission. The authorities release the JEE Advanced cutoff for IIT Mandi in the form of opening and closing ranks. JEE Advanced 2023 cutoff for IIT Mandi will be updated in this article after it will be officially released.
NOTE- All the mentioned ranks from Round 1 to Round 6 are JEE (advanced) category-wise All India Ranks. All ranks mentioned in Special Round are JEE (Advanced) 2022 All India CRL Ranks.HS stands for Home State Quota and OS stands for Other State Quota. Vacant HS Quota seats were converted to All India Quota in Special Round.
NOTE- Josaa Round 6 cutoff (2022) is mentioned below
Course
Category
Male
Female
Civil Engineering
OBC
4468
8017
EWS
2019
3390
General
12801
20745
SC
2347
3161
ST
864
1255
Computer Science and Engineering
OBC
1212
2572
OBC (PwD)
59
59
EWS
462
1087
EWS (PwD)
9
9
General
3017
5988
General PwD
–
139
SC
636
1309
ST
310
310
Electrical Engineering
OBC
2742
5828
EWS
1195
2034
General
6946
11782
SC
1613
2323
ST
844
887
Engineering Physics
OBC
4633
9020
EWS
1877
3188
General
11691
19876
SC
2749
3556
ST
1311
1311
Mechanical Engineering
OBC
3849
7634
EWS
1639
2863
General
10038
16438
SC
2092
3240
ST
994
1183
Data Science and Engineering
OBC
1678
2866
EWS
521
1281
General
3974
6490
SC
966
1812
ST
505
559
Bio-Engineering
OBC
5410
5410
EWS
2271
4097
General
15216
22169
SC
2917
3915
ST
1446
1446