The Joint Entrance Examination (JEE) mains 2020 is likely to be conducted in June this year due to the further extension of lockdown to curb the spread of coronavirus disease in the country. Talking to an English Daily, Union HRD Minister Ramesh Pokhriyal said that the JEE main exam 2020 is likely to be conducted in June and the HRD Ministry is in consultation with the stakeholders like board of examination and IITs before the next dates of the examinations can be finalized and announced.
The National Testing Agency (NTA) had earlier released a notification saying that JEE mains 2020 has been proposed to be conducted in the last week of May. This had been proposed on the assumption that the lockdown would end on April 14. However, the lockdown was extended till May 3 due to the growing number of coronavirus cases in the country.
JEE-Main likely in June.
Student safety our priority.#IndiaFightsCoronaVirus #StayHomeStaySafe @IndianExpress pic.twitter.com/8qpzeU6CjV

— Dr Ramesh Pokhriyal Nishank (@DrRPNishank) April 20, 2020
When asked about JEE Main and NEET, the minister said that all stakeholders (NTA, IITs, School Boards, other agencies etc.) involved in the logistic operations are being consulted before the decision is made and the new dates announced. In the light of this statement on JEE Main dates, the question does fall on whether JEE Advanced 2020 will be conducted or not. There are reports circulating in the media that the IIT admissions may be on the basis of JEE Main this year.
Best test Series For Jee Mains
Eligibility Criteria for NIT , IIT , IIIT
On a question about semester exams in universities and colleges as well as the admission process, the minister specified that a committee has been set up to look at the all exam related issues and academic calendar. He said that the new academic session is bound to get delayed considering the situation. The final semester exams would be held by the universities only after the reopening. The old batches will have their terminal semester exams after the reopening and classes for the next session would immediately begin. The admission process would begin thereafter and this is expected to last for a month or so.
On the subject of online exams, he said that that a task force under UGC would be looking at all aspects and guidelines will e issued on the basis of its recommendations. He mentioned that the ministry is putting all efforts to reach students who do not have access to digital media. While the Swayam Prabha channel is already beaming content, All India Radio as well as some other strategies are bring looked in to along with the states to ensure that the most vulnerable and marginalized students do not suffer.
He also stated that CBSE will be assessing loss of instructional time to recommend a proportionate reduction in the curriculum for the board exams of 2021. In this regard, the course committees of the board have already initiated work on the syllabi reduction under various scenarios.
On the topic of campus placements, a task force has been set up by the ministry to look at this. In addition, the minister has had meetings with IIT directors to ask them to reach out to the companies asking them to reconsider and not rescind placement offers made to the students.
Eligibility Criteria For Nit , IIIT & IIT 2020
JEE Main 2020 Eligibility Criteria for Admissions to NITs, IIITs and CFTIs
The eligibility conditions that will be considered during admission for the candidates who will not be appearing for the exam are given below:
NITs/ IIITs/ GFTIs Admission: Candidates should have obtained a minimum of 75% marks in class 12 or equivalent exam or they must be in the top 20 percentile in their class 12 examination. For SC/ ST, the eligibility is to obtain a minimum of 65% marks in class 12 or equivalent.
JEE Main 2020 B.Arch/B.Planning Admission: Candidates should have passed 10+2 or equivalent exam from a recognized board with a minimum 50% aggregate marks.
JEE Main 2020 – Subject Combinations for Admissions
The subjects given below are compulsory for the candidates in order to get admissions through JEE Main 2020 into NITs, IIITs and GFTIs. The subject combination for each paper is given below:
B.Tech/B.E – Passed qualifying examination with Physics and Mathematics as compulsory subjects along with one of the Chemistry/Biotechnology/Biology/ Technical Vocational subject.
B.Arch – Passed qualifying examination with Mathematics, Physics, Chemistry
B.Planning – Passed qualifying examination with Mathematics
JEE Main 2020 Eligibility Criteria for Droppers
The term droppers can be classified into two categories. One are the candidates who have dropped a year after completing their class 12 to concentrate on JEE Main 2020 exam. Other one consists of those who got admitted to another institute and wish to attempt again or did not qualify JEE Main earlier and waited a year while preparation. Candidates need to check the JEE Main 2020 Eligibility Criteria for Droppers to make sure that they will be able to appear the entrance exam without any problems.
JEE Main Eligibility Criteria 2020 for Droppers
There is no specific age limit.
For NITs, IIITs and CFTIs admissions, the candidates should have obtained a minimum of 75% aggregate marks or be in the top 20 percentile of their respective boards. For SC/ST category, a minimum of 65% marks required.
It is important that they must have passed their class 12 examination in 2018 or 2019. Only three consecutive attempts are allowed for JEE Main.
He/She should have been taken at least five subjects for the 12th class or qualifying exam (Physics, Chemistry and Mathematics compulsory).
JEE Main 2020 – Details of Improvement Examination
Improvement for all subjects – If an aspirant appears for improvement in all subjects in 2020, then the better of both the years will be considered.
Improvement in one or more subject – If the candidate appears for improvement in 2020, then the top 20 percentile of 2019 will be taken into account. The maximum marks secured in the necessary subjects will be considered to calculate the aggregate percentage in such a case.
Best test Series For Jee Mains
Top 20-Percentile Cut-Off Marks for 2019
| S No | Boards / Councils | General |
| --- | --- | --- |
| 1 | Central Board Of Sec. Edu. (Cbse), New Delhi | 418 |
| 2 | Board Of Intermediate Education (Andhra Pradesh) | 462 |
| 3 | Assam Higher Secondary Education Council | NR |
| 4 | Aligarh Muslim University Board Of Secondary & Sr. Sec. Education, Aligarh | NR |
| 5 | Bihar School Examination Board, Patna | NR |
| 6 | Banasthali Vidyapith, Rajasthan | 422 |
| 7 | Council For The Indian School Certificate Examinations, Delhi | 445 |
| 8 | Goa Board Of Sec. And Higher Sec.Education | 375 |
| 9 | Gujarat Sec. And Higher Sec. Education Board | 373 |
| 10 | Board Of Vocational Higher Secondary Education, Kerala | 384 |
| 11 | Board Of Sec. Education, Madhya Pradesh | 398 |
| 12 | Meghalaya Board Of School Education | NR |
| 13 | Mizoram Board Of School Education | 358 |
| 14 | Nagaland Board Of School Education | 340 |
| 15 | Punjab School Education Board | 401 |
| 16 | Telangana State Board Of Intermediate Education, Nampally, Hyderabad | 462 |
| 17 | Tripura Board Of Secondary Education | 372 |
| 18 | Maharashtra State Board Of Secondary And Higher Secondary Education | 339 |
| 19 | U.P. Board Of High School & Intermediate Education, U. P. | 334 |
| 20 | Board Of Secondary Education Rajasthan | NR |
| 21 | Himachal Pradesh Board Of School Education Dharmashala, H. P. | 403 |
| 22 | Board Of School Education Haryana, Bhiwani | NR |
| 23 | Council Of Higher Sec. Education, Manipur | NR |
| 24 | National Institute Of Open Schooling, Noida | 337 |
| 25 | Govt. Of Karnataka Dept. Of Pre-University Education, Karnataka | 444 |
| 26 | Council Of Higher Sec. Education, Odisha | 314 |
| 27 | Dayalbagh Educational Institute, Agra | 447 |
| 28 | Chhatisgarh Board Of Secondary Education | 371 |
| 29 | Jharkhand Academic Council, Ranchi | 321 |
| 30 | Jammu & Kashmir State Board Of School Education | NR |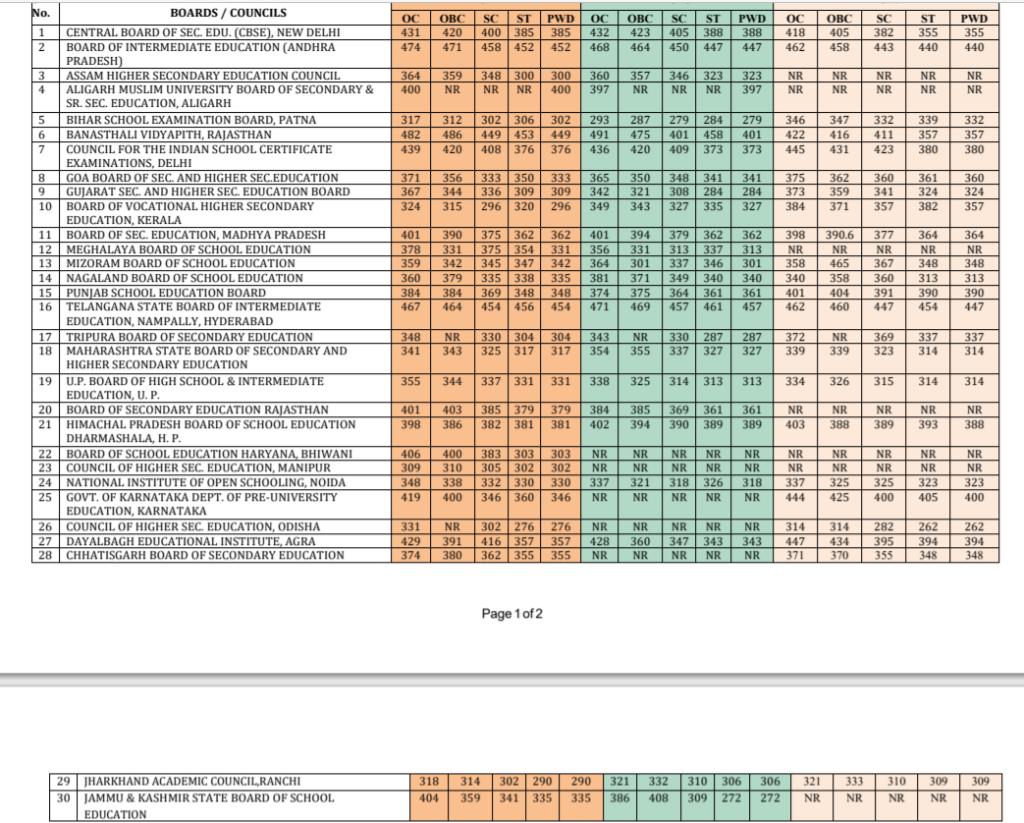 JEE Main Eligibility Criteria 2020
| | | |
| --- | --- | --- |
| S.No | Eligibility Particulars | Details |
| 1 | Qualifying exam | Candidate should have passed class 12 or qualifying the exam in 2018 or 2019.Candidate appearing in class 12 or equivalent qualifying exam in 2020 can also apply for JEE Main. |
| 2 | Age Limit | There is no age limit. However, the He/She have to pass 10+2 or equivalent exam in 2018 or 2019.Candidates appearing for 10+2 or equivalent exam in 2020 are also eligible to apply. |
| 3 | Number of attempts | JEE Main candidates can participate in the entrance exam for 3 consecutive years. The exam will be conducted twice a year, they may appear in both the attempts. The attempt for an academic year will be considered as One. |
| 4 | Subject/subjects combination for admission into NITs, IIITs and GFTIs | Should have passed qualifying examination withB.Tech/ B.EPhysicsMathematicsAny one of (Chemistry, Biology, Biotechnology, Technical Vocational Subject),B.ArchMathematicsPhysicsChemistryB.PlanMathematics |