Indian Statistical Institute (ISI) is a higher education and research institute which is recognized as an Institute of National Importance by the 1959 act of the Indian parliament. It grew out of the Statistical Laboratory set up by Prasanta Chandra Mahalanobis in Presidency College, Kolkata. Established in 1931, this unique institution of India is one of the oldest institutions focused on statistics, and its early reputation led it to being adopted as a model for the first US institute of statistics set up at the Research Triangle, North Carolina by Gertrude Mar Cox.
Primary activities of ISI are research and training of statistics, development of theoretical statistics and its applications in various natural and social sciences. Originally affiliated with the University of Calcutta, the institute was declared an institute of national importance in 1959, through an act of Indian parliament, Indian Statistical Institute act, 1959. ISI functions under the Ministry of Statistics and Programme Implementation (MOSPI) of the government of India.
Key areas of expertise of ISI are statistics, computer science, mathematics, mathematical economics, operations research and information science and it is one of the few research oriented Indian schools offering courses at both the undergraduate and graduate level.
Top engineering Exams in India – Apply Now
ISI EXAM DATES
ISI Branches
ISI has its headquarters in Baranagar, West Bengal. It has four subsidiary centres focused in academics at Delhi, Bengaluru, Chennai and Tezpur, and a branch at Giridih. In addition, the institute has a network of units of statistical quality control and operations research at Vadodara, Giridih, Hyderabad, Mumbai and Pune engaged in guiding the industries, within and outside India, in developing the most up–to–date quality management systems and solving critical problems of quality, reliability and productivity.
ISI Admission
The Indian Statistical Institute (ISI) conducts the Indian Statistical Institute Admission Test abbreviated as ISI Admission Test in order to offer students admission in undergraduate and postgraduate courses which are offered at the ISI. Admission to the academic programmes offered at the ISI Kolkata is strictly based on the merits obtained by the candidates which are evaluated from their performance in ISI admission tests and interviews.
The past academic records of the candidate may also be taken into account for the purpose of performance evaluation. In 2022 the ISI admission test is held at 38 Centres across the country. The ISI admission test is a national-level entrance exam and the mode of the exam is offline i.e. pen and paper test.
ISI Admission Test Exam Highlights
The following table brings the important details of the ISI Admission Test 2024.
Top engineering Exams in India – Apply Now
ISI Admission Test 2024 Application Form
When seeking admissions at ISI, the very first step is to apply online for registration and appear for the entrance examination. Aspirants need to fill the application form online on the official website. The ISI Admission Test 2024 application form will have to be filled online for the entrance exam for PG course admissions they need to register on the admissions portal. Candidates will also have to upload their photograph, signature and category certificate in the specific resolutions. The application fee has to be paid in Credit/Debit Card and Net Banking modes.
Courses offered through ISI Admission Test
The following courses are offered through the ISI Admission Test.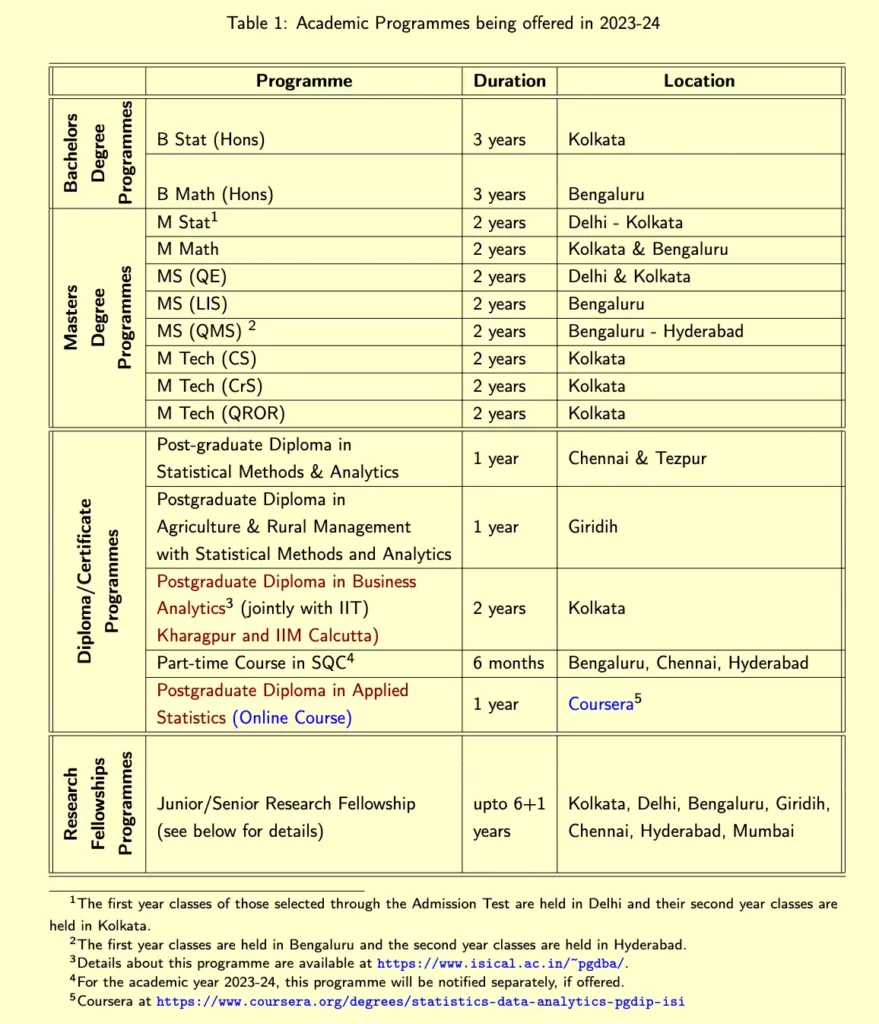 Indian Statistical Institute ( ISI ) Number of seats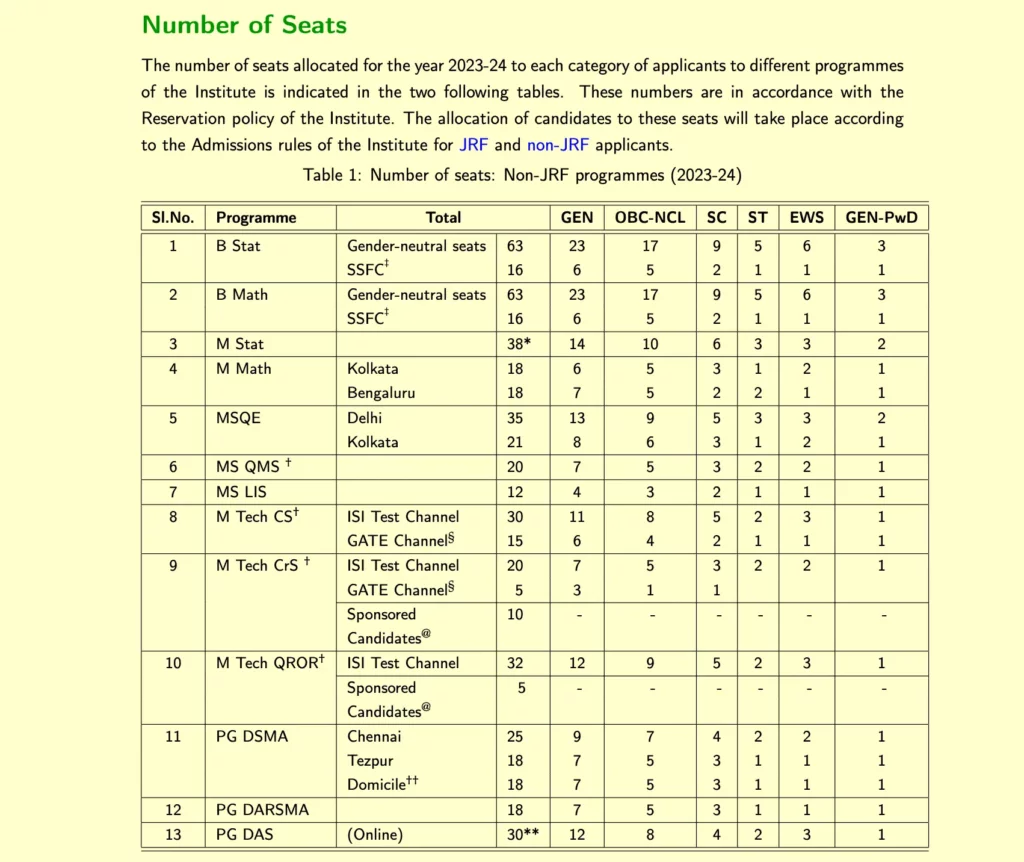 ISI Admission Test 2024 Eligibility Criteria
The eligibility criteria as stated below for each of the academic programmes offered at ISI-Kolkata reflect only the minimum requirements in order to apply for a particular programme. Only satisfying the eligibility conditions does not guarantee admission/selection into the chosen programme. For all the programmes described below, those who have completed or are due to complete their qualifying examinations for which the results are not yet published may also apply for admission.
If selected, the admission of the candidate will be provisional and pending till the announcement of results. In such cases, however, the application of the candidate is also subjected to cancellation if the final examinations are not completed/failed as on or before the due date.
Top engineering Exams in India – Apply Now
Indian Statistical Institute UG and PG Admission 2024
ISI offers B.Stat and B. Math programs at undergraduate levels. The duration of these programs is 3 years. At Postgraduate levels ISI, Kolkata offers M.Stat, M. Math, M.Tech and MS courses in multiple specializations. Duration of these programs is 2 years. Interested candidates can check the detailed eligibility and conducted centre in the table given below:
Top engineering Exams in India – Apply Now
ISI, Kolkata
ISI Kolkata has a campus consisting of six addresses at 201 through 206 Barrackpore Trunk Road, Bonhooghly (Baranagar). These include a house, which was an erstwhile office of the National Sample Survey Organisation (NSSO) of India. ISI Kolkata campus is eco-friendly, as conceived by Mahalanobis. Hollow bricks that protect from heat and noise were used with minimum use of reinforced concrete, to avoid radiation. There was no use of bitumen-basalt combination at the roads inside ISI campuses. This helps in reduction of radiation and preservation of rain water to maintain equilibrium in ground-water level.
ISI Kolkata Highlights
ISI Kolkata Placements
The institute has a well-established placement cell that ensures that the placement process is conducted smoothly. ISI Kolkata placement cell organises various workshops and seminars to develop the communication skills and overall personality of the students. The cell also arranges mock tests and practice session classes on aptitude, quantitative ability, logical and reasoning to prepare students for the final rounds.
According to the ISI Kolkata placement brochure 2022-23, the highest and average CTC offered to students was Rs. 89 LPA and Rs. 25.5 LPA respectively. The median CTC offered to Indian Statistical Institute Kolkata students was Rs. 20 LPA to 30LPA depending upon courses. Students received job offers from various sectors such as BFSI, Trading, Consulting, Healthcare, Advertisement etc. The highest salary package offered to M.Stats students was Rs. 89 LPA in 2023.
ISI Delhi
Indian Statistical Institute, Delhi (ISI Delhi) is an institute of worldwide repute offering 2 postgraduate and 1 doctoral program under different specializations. Since its inception, it is known for its proactive on-campus placement program. Admission to the courses is done through an entrance test conducted at the Insitute level.
Established in 1974, it enjoys a good reputation for M.Stat., M.Sc. and Certificate. course in Statistics, Statistics, Business Analytics, Six Sigma. Students can do full-time course from the Institute located in Delhi. The Institute provides 2 PG Degree and Certificate courses. It has decades of experience that has been built through its excellent, experienced faculty dedicated to imparting quality skills through a syllabus that is at par with industry trends.
The institute also has well-equipped Library, Boys Hostel, Girls Hostel, Labs. with all modern facilities. This infrastructure is supported with various seminars and workshops that help students learn about new trends and topics as well as interact with experts in respective fields.
Top engineering Exams in India – Apply Now
ISI Delhi Placement
The placement cell at Delhi centre enables recruitment opportunities for the students. The placement process starts in the month of August. The Institute also organizes Pre Placement Talks (PPTs) which will be followed by campus recruitment. The students will be shortlisted on the basis of academic as well as personal performance. Some of the past recruiters of the Institute include KPMG, HDFC Bank, Accenture, Cognizant, RBS, Reliance, Deloitte, ICICI Bank, Idea, Goldman Sachs, Mercados, DE Shaw & Co, etc.
The following graph shows the industry split for 2018-19 session:
ISI Delhi Facilities
Library: There is a collection of 33000 books, 278 journals, 550 electronic journals, 17500 bound volumes in the field of Mathematics, Statistics and Economics. It also subscribes to all major journals in print and electronic form.
Hostels: Hostel accommodation is given on a merit-cum-need basis subject to availability. At the current time, hostel accommodation is available to all admitted students.
Stipend: The Institute offers a stipend to all students (currently INR 5000 per month). It is valid initially for the first semester. The amount of stipend for other semesters depends on the academic performance of the student.
ISI Bangalore
Indian Statistical Institute (ISI) Bangalore, one of the four major centers of the ISI, provides undergraduate and postgraduate courses in Mathematics and Library Science.The institute is ranked 1352 worldwide according to the web rankings published by Webometrics Rankings of World Universities. It is maintained by the Ministry of Statistics and Programme Implementation (MOSPI) of the Government of India.
The Bengaluru centre of ISI started with a Statistical Quality Control and Operations Research (SQC & OR) unit in 1954. The Documentation Research and Training Centre (DRTC) here became operational from 1962 with honorary professor S. R. Ranganathan as the head. Prof. Mahalanobis planned of starting a full-fledged centre of ISI here around the mid-sixties. In 1966, the then Government of Karnataka granted ISI 30 acres of forest land full of eucalyptus trees, next to the upcoming campus of the Bangalore University, located on the Mysore Road on the outskirts of the city
ISI Bangalore Highlights
ISI Bangalore Placements
Students of ISI Bangalore get opportunities to join research programs in India and abroad, or get placed in attractive positions in the industry or government departments. Most of the students of the Institute get employment offers or admission to some Ph.D. programmes even before they complete the qualifying degree examinations. A prestigious multinational IT consulting and services company has signed an MoU with ISI that gives placement opportunities to successful students.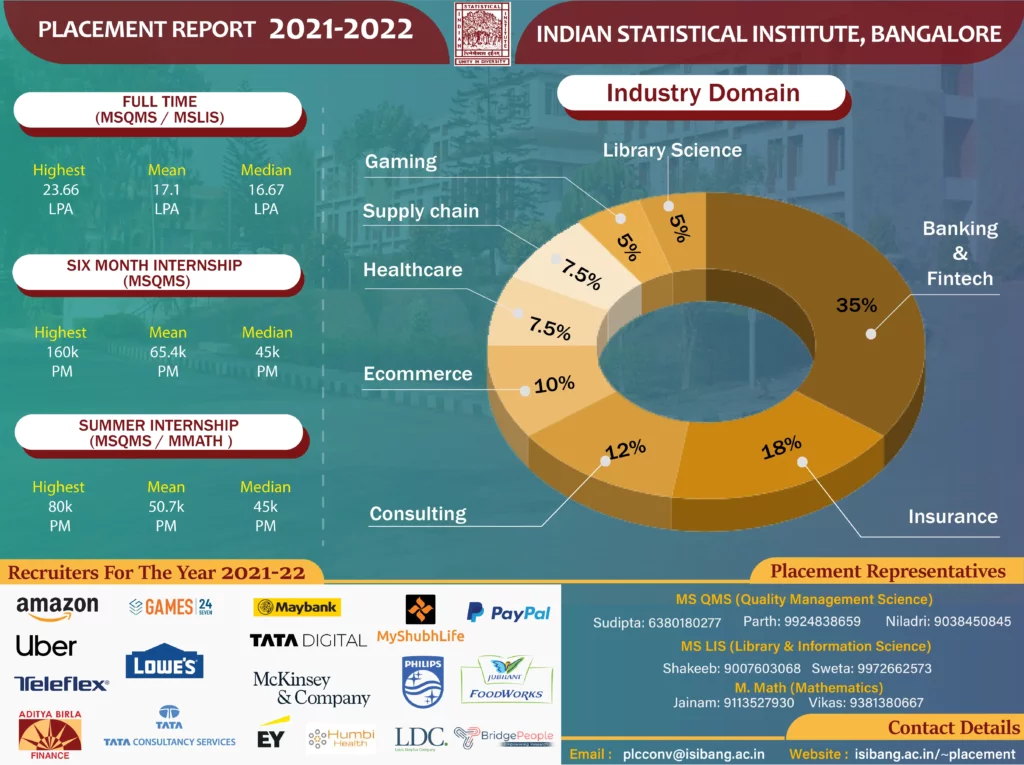 Research Divisions and Centers
Top engineering Exams in India – Apply Now
ISI Exam Pattern 2024-2025
The authorities have released the ISI 2023 exam pattern on the official website. Using the exam pattern of ISI 2023, candidates can know the pattern in which the question paper of ISI admission test 2023 will be prepared.
ISI Admission Test 2024 Exam Pattern – Part 1
ISI Admission Test 2024 Exam Pattern – Part 2
ISI Admission Test 2024 Syllabus
Candidates are advised to carefully go through the ISI 2024 syllabus to ensure that they do not miss out to prepare on any topic. The detailed syllabus will be released by the authorities along with the brochure.
ISI Syllabus 2024 of MMA for M.Tech CS, CrS, QROR
ISI Syllabus 2024 of PCB for M.Tech CS & CrS
ISI Syllabus 2024 for M.Tech QROR (PQB)
Top engineering Exams in India – Apply Now