The National Institute of Technology (NIT) Durgapur was established by the Government of India in 1960, as an Institute of National Importance. In NIRF 2022 Ranking, NIT Durgapur has been ranked 34th in the Engineering category and 72nd in the overall category.
NIT Durgapur offers a total of 53 courses including B.Tech, M.C.A, M.Sc, M.B.A, M.Tech and Ph.D. The admission to these courses is offered based on different national level examinations. The institute also offers a long list of scholarships to help its students financially. A lot of facilities are also offered by the institute for its students.
NIT Durgapur Highlights
| | |
| --- | --- |
| Established | Institute Type | 1960 | Public |
| Approved by | AICTE, UGC, NBA Accreditation, MoE |
| Set by | Government of India |
| Entrance Exam | JEE/ GATE/ NIMCET/ CAT/ JAM/ CMAT/ XAT |
| Courses Offered | 53 Full-time Courses |
| Popular Courses | B.Tech, M.Tech, MBA, MSc, MCA, PhD |
| Application Mode | Online and Offline |
| Admission Criteria | AIEEE |
| Top Recruiters | Amazon, Infosys, Microsoft, Samsung R&D, TCS, Qualcomm, Capgemini, Oracle, PwC, Uber, Oyo |
| Campus Area | 187 Acres |
| Facilities Available | Hostels, Medical/Hospital, Gym, Cafeteria, Sports, Auditorium, Sports, Wi-Fi, IT Infrastructure, Laboratories |
| Official Website | https://nitdgp.ac.in/ |

NIT Durgapur Location
NIT Durgapur is located on Mahatma Gandhi Rd, A-Zone, Durgapur, West Bengal The nearest airport to the institute campus is Kazi Nazrul Islam Airport, which is approximately 15 km away from the main NIT Durgapur campus. The railway station that is the nearest to the NIT Durgapur campus is the Warai railway station. The railway stands just 7 km away from the institute location. The nearest bus station from the campus is the NIT Durgapur bus stand, located just 850 m away from the main college site.
NIT Durgapur Ranking
NIT Durgapur is an autonomous university located in West Bengal, India. It is ranked by top recognised agencies such as NIRF, The Week and Outlook for its distinct performance. It secured overall 72nd & 34th position for the best engineering institutes located in India by NIRF ranking 2022. Some important rankings are shown below:
| Body/Magazine | Category | Rank | Year |
| --- | --- | --- | --- |
| NIRF | Overall | 72 | 2022 |
| NIRF | Engineering | 34 | 2022 |
| NIRF | Engineering | 29 | 2021 |
| NIRF | Overall | 71 | 2021 |
| NIRF | Overall | 96 | 2020 |
| NIRF | Engineering | 47 | 2020 |
| The Week | Best Technical Universities | 24 | 2020 |
| The Week | Top Engineering Colleges | 24 | 2020 |
| Outlook India | Best Engineering Colleges | 37 | 2019 |
NIT Durgapur Courses , Fee Structure , Eligibility
NIT Durgapur offers 29 courses in total at the undergraduate, postgraduate, and research levels. Courses offered at NIT Durgapur include BTech, BSc, MTech, MSW, MBA, MCA, MSc, Ph.D., etc. BTech among all is the most popular and flagship program of NIT Durgapur. The program has also been rated 34th by the NIRF 2022. Besides, admission to all the programs is offered through the national-level entrance examinations. Given below are the details related to NIT Durgapur admission for various courses:
Courses
Details
NIT Durgapur Fees
B.Tech
Eligibility: 75% marks in 10+2 with PCM
Selection: JEE Main exam and JOSAA counselling.
INR 6/7Lakhs 
MBA
Eligibility: 50% marks in Graduation
Selection: CAT exam and Personal Interview
INR 1.91 Lacs 
MTech
Eligibility: BE/BTech with 60% marks 
Selection: GATE exam and CCMT Counselling 
INR 1.27 Lacs
MCA
Eligibility: Candidates must have passed in 10+2 from a recognized board 
Selection: NIMCET exam and counselling.
INR 2.5 Lacs
M.Sc
Eligibility: BSc in relevant discipline with 60% marks
Selection: IIT JAM exam and CCMN counselling
INR 70,700
Ph.D
Eligibility: Completed Post Graduation from a recognized board
Selection: Written test + Personal Interview conducted by Institute. * Candidates who have cleared UGC NET exam are exempted from the written test.
INR 1.15 lacs

B.E./B.Tech. Courses – 4 Years
Biotechnology
Chemical Engineering
Civil Engineering
Computer Science and Engineering
Electrical Engineering
Electronics and Communication Engineering
Mechanical Engineering
Metallurgical and Materials Engineering
B.Tech + M.Tech. (Dual Degree) – 5 Years
Biotechnology
Chemical Engineering
Integrated M.Sc. – 5 Years
NIT Durgapur Fee Structure – Btech
Institute Fee
Particulars
Amount
Caution Money (One Time, Refundable)
₹5,000
One Time Fees
₹8,500
Tuition Fee (per Semester)
₹62,500 (B.Tech/ B.Tech+M.Tech),
₹7,500 (Int. MSc)
Other fees (per Semester)
₹5,300
Total
₹81,300 (B.Tech/ B.Tech+M.Tech),
₹26,300 (Int. MSc)
Hostel Fee
Particulars
Amount
Hostel Caution Money (One Time, Refundable)
₹5,000
Hostel Seat Rent (per Semester)
₹4,000
Electricity charges (per Semester)
₹1,500
Other fees (per Semester)
₹1,800
Total
₹12,300
Note: Mess Charges extra.
NIT Durgapur Full Fees – PDF
Fee Waivers
100% Tuition Fee waiver for SC/ST/PH students.
Full remission of the Tuition Fee for General and OBC students whose family income is less than Rs.1 lakh per annum.
Remission of 2/3rd of the Tuition Fee for General and OBC students whose family income is between Rs.1 lakh to Rs.5 lakh per annum.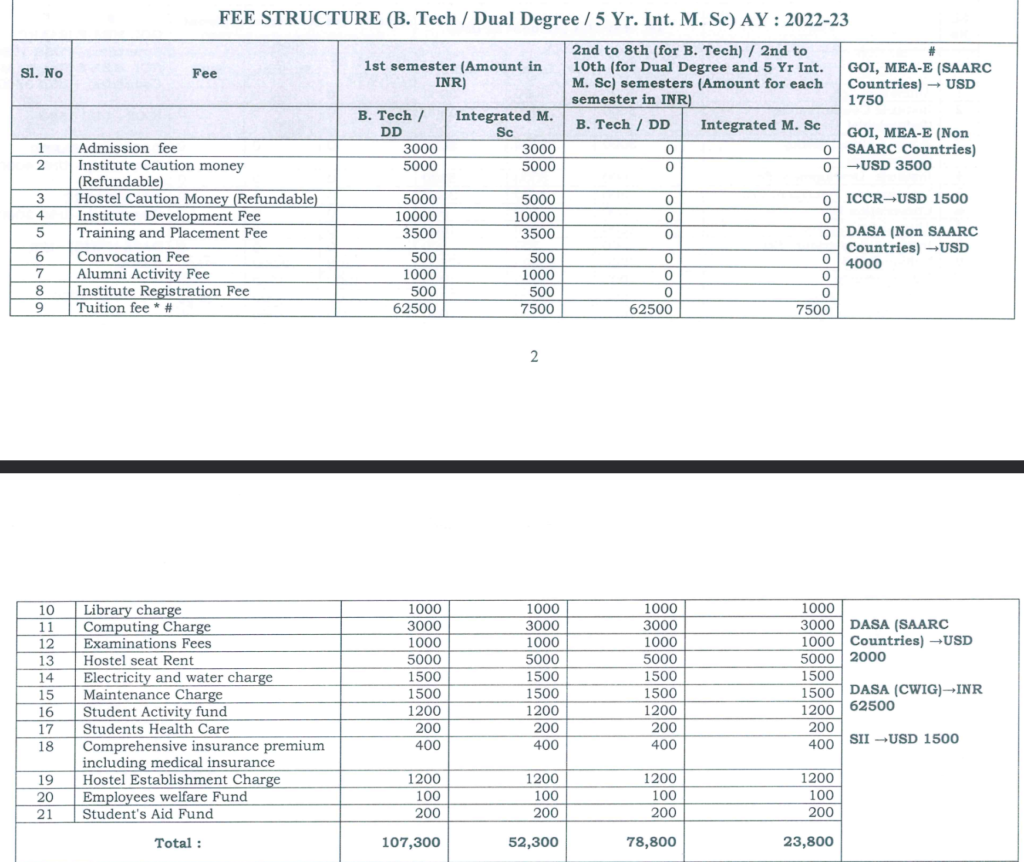 NIT Durgapur Placements
NIT Durgapur Placements 2023 have been started. The highest salary of INR 51 LPA was offered by Microsoft. Some of the major recruiters included Mrgan Stanley, Caterpillar, Microsoft etc. The 2022 placement drive have recorded the participation of more than 100 companies and over 530 students got placed. The highest placement rate of 95.24% has been achieved by the CSE department. Companies such as Microsoft, Jio, Infosys, Nokia, TATA Steel, Genpact, Oracle, Qualcomm, Wipro, Oyo, Goldman Sachs, etc., have recruited students from NIT Durgapur. The branch-wise placement statistics of 2022 are mentioned below.
| | |
| --- | --- |
| Branch | Placement Rate |
| CSE | 95.24% |
| ECE | 82.05% |
| Chemical | 79.63% |
| Electrical | 78.05% |
| Mechanical | 73.43% |
| Metallurgical & Minerals | 54.10% |
| Civil | 50% |
| Biotechnology | 33.33% |

NIT Durgapur Placements 2023: Highlights
The key highlights of NIT Durgapur placements 2023 are tabulated below:
| Particulars | Statistics (2023) |
| --- | --- |
| Highest package | INR 51 LPA |
| Top recruiters | Microsoft, Steradian, Morgan Stanley, Caterpillar |
NIT Durgapur Placements 2022: Highlights
During the NIT Durgapur BTech placements (as on May 24, 2022), over 560 students have been placed in reputed companies. The average package offered stood at INR 11.46 LPA. The important highlights of NIT Durgapur placements 2022 are tabulated below:
BTech
Particulars
Statistics (2022)
Average salary
INR 11.46 LPA
Total students placed
560+
Total recruiters
100+
Top recruiters
TCS, Google, IBM, Adobe, Infosys, Amazon
MTech
Particulars
Statistics (2022)
Total students
249
Total recruiters
50
Total students placed
48
Total offers made
51
Note: The placements are ongoing and data above is till May 24, 2022.
NIT Durgapur Average Package 2022
The average and median package offered during NIT Durgapur BTech placements 2022 is presented below:
| BTech Specialisation | Average Package | Median Package |
| --- | --- | --- |
| CSE | INR 18.24 LPA | INR 14.3 LPA |
| ECE | INR 13.18 LPA | INR 12.5 LPA |
Note: The above-mentioned salary data is gathered from unofficial sources and hence may vary.
NIT Durgapur Placements 2022 Branch – Wise
The below graph represents the branch – wise data of NIT Durgapur Placements 2022: During NIT Durgapur Placements 2022, CSE & ECE branches achieved more than 90% of placement percentage.
NIT Durgapur Placements Year – wise Trends
Particulars
2016-20
2017-21
2018-22
2019-23
No. of Companies participated
176
100+
100+
–
No. of Offers made
574
500+
560+
–
No. of Students placed
517
380+
579
Highest CTC
INR 33 LPA
INR 44 LPA
INR 57 LPA
INR 51 lpa
Average CTC
INR 9.09 LPA
INR 8.50 LPA
INR 11.46 LPA
NIT Durgapur Infrastructure
Ample facilities are provided by the National Institute of Technology (NIT) Durgapur. The NIT Durgapur facilities are available for its enrolled students and dedicated faculty members. The campus houses accommodations for its students and has the provision of canteen for all the members. The teachers and faculty of NIT Durgapur are provided with residential quarters. A modern and updated guest house has also been provided in the main campus.
Furthermore, for the convenience of the students NIT Durgapur facilities also include a shopping complex that serves the daily needs of the students and faculty members. The shopping complex is situated in the middle of the residential complex.  NIT Durgapur also houses a co-educational higher secondary school to facilitate the needs of the wards of the institute's employees. The details of the National Institute of Technology Durgapur facilities are mentioned below:
Boys Hostel Staying in hostels is mandatory for all undergraduate students of the Institute. National Institute of Technology Durgapur has seven halls of residence for male students. Three of these halls have single-seated rooms for senior students. The Institute has also several halls of residence.
Girls Hostel- NIT Durgapur facilities include separate hostel facilities for the girls' students. All the necessary facilities and recreational facilities are available for the students.
Medical/Hospital- The Institute has a medical unit-cum-hospital with outdoor and indoor (10 beds) facilities.
Gym- NIT Durgapur has a gymnasium inside the campus with all the necessary machines that can be used by the students to stay fit and healthy.
Laboratories- All departments have well-equipped laboratories that cater to hands-on training to the undergraduate as well as postgraduate students. The laboratories are also regularly used for carrying out projects and research works.
Sports- National Institute of Technology Durgapur has an indoor auditorium, where all the indoor games like badminton, table tennis and chess are played around the year. Games like football, cricket, athletics etc are also available for the students. Besides this, there is one more ground called The Lords adjacent to the hostels, all major non-sports activities, as well as sports activities, are organised in regular manner. 
I.T Infrastructure- NIT Durgapur offers a computer professional centre for the students and the faculty members. 24/7 internet access and upgraded computer machines and software are available for the students.
Cafeteria- A number of eatery and canteens are made available for the students for easy and healthy access to food- B/L Cafe, Techno, Chitrangani, Chandu, Roy Restaurant, Nescafe, Wonder Cafe and Tea Stall.
Auditorium- The college has an auditorium facility for events and seminar.
Alumni – AssociationsThe college has a good networking for alumni association.
Wifi- The entire Institute campus should be made wi-fi enabled.
Banks/ATMs- For easy money transfer and convenience, the institute provides a banking facility to all its students and faculty in the campus premises. Two banks namely, State Bank of India NIT Durgapur Branch and Canara Bank are there for everyone's access.
NIT Durgapur Cutoff 2023
The admission authorities will release the JEE Main cutoff for MNIT Jaipur 2023 on the official website soon after the declaration of JEE Main 2023 result. The cutoff will be the minimum marks set by the authorities. MNIT Jaipur 2023 JEE Main cutoff will be released category-wise and will consist of opening and closing ranks. Candidates who will be able to secure a rank higher than the closing rank released by the authorities will be offered admission.
NOTE- All the mentioned ranks from Round 1 to Round 6 are JEE (Main) category-wise All India Ranks. All ranks mentioned in Special Round are JEE (Main) 2022 All India CRL Ranks.HS stands for Home State Quota and OS stands for Other State Quota. Vacant HS Quota seats were converted to All India Quota in Special Round.
NOTE- Josaa Round 6 cutoff-2022 is mentioned below
| Course Name | Category | Male (Closing Rank) | MALe | Female (Closing Rank) | Female |
| --- | --- | --- | --- | --- | --- |
| | | Home State | Other State | Home State | Other State |
| Civil Engineering | OPEN | 41294 | 41543 | 48329 | 46680 |
| | EWS | 9112 | 6206 | 23784 | 7605 |
| | OBC NCL | 23416 | 12572 | 41170 | 17465 |
| | SC | 7175 | 5353 | 10112 | 7101 |
| | ST | 6151 | 1311 | 6328 | 2450 |
| Electrical Engineering | OPEN | 19712 | 21597 | 24531 | 28340 |
| | EWS | 6935 | 3415 | 12336 | 4285 |
| | OBC NCL | 12634 | 6650 | 20083 | 9760 |
| | SC | 2960 | 3239 | 4472 | 4937 |
| | ST | 2199 | 887 | 4282 | 1388 |
| Electronics and Communication Engineering | OPEN | 15843 | 14177 | 18956 | 16975 |
| | EWS | 5189 | 2154 | 11132 | 2603 |
| | OBC NCL | 9600 | 4052 | 18577 | 6005 |
| | SC | 2108 | 1881 | 2943 | 2827 |
| | ST | 2106 | 710 | 2440 | 1342 |
| Mechanical Engineering | OPEN | 31048 | 31045 | 39660 | 44080 |
| | EWS | 7596 | 4703 | 25085 | 6910 |
| | OBC NCL | 21850 | 9937 | 29483 | 16424 |
| | SC | 4784 | 4740 | 8818 | 6927 |
| | ST | 4493 | 1504 | 11707 | 2173 |
| Biotechnology Engineering | OPEN | 48765 | 48341 | 48765 | 48341 |
| | EWS | 12544 | 7574 | 23022 | 8984 |
| | OBC NCL | 31055 | 15159 | 47449 | 18221 |
| | SC | 7325 | 7156 | 7325 | 9498 |
| | ST | 7011 | 2755 | 7011 | 2755 |
| Computer Science and Engineering | OPEN | 11092 | 8689 | 13097 | 11683 |
| | EWS | 2811 | 1261 | 3796 | 1730 |
| | OBC NCL | 7688 | 2599 | 14738 | 4925 |
| | SC | 1583 | 971 | 1603 | 1260 |
| | ST | 1285 | 213 | 1972 | 615 |
| Chemical Engineering | OPEN | 35089 | 36501 | 35528 | 41068 |
| | EWS | 9742 | 5503 | 15949 | 7069 |
| | OBC NCL | 22250 | 11933 | 31613 | 15449 |
| | SC | 5129 | 6069 | 5129 | 7174 |
| | ST | 6984 | 1899 | 6984 | 2699 |
| Metallurgical and Materials Engineering | OPEN | 44601 | 45818 | 47533 | 51650 |
| | EWS | 10620 | 7116 | 22699 | 8769 |
| | OBC NCL | 27029 | 14390 | 33303 | 18349 |
| | SC | 6833 | 6918 | 10213 | 6918 |
| | ST | 3277 | 2468 | 12574 | 3592 |